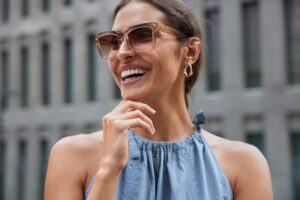 Missing teeth and the gaps in your smile they leave behind can present a challenge, both aesthetically and functionally. Dental implants can restore your smile by addressing missing teeth with stable replacements. The customizable treatment involves titanium posts being anchored into the jawbone, which can provide long-lasting results. If you're questioning whether dental implants are worth the time and money, let us break down some key factors for you to consider. 
Dental implants offer multiple short-term and long-term benefits, including: 
Restored appearance and functionality of teeth 
Durable and secure restorations 
Natural-looking results 
Jawbone integrity preservation 
The ability to speak, chew, and talk with confidence
Additional benefits include how low maintenance the care is for dental implants and the potential for improved bite alignment.  
There are a variety of versatile dental implant options available beyond a single-tooth dental implant that can fulfill a patient's needs and goals. The All-on-4® technique utilizes four dental implant posts to anchor a single full-arch denture prosthetic to either the upper or lower jawbone. Additionally, the All-on-6 method involves six implant posts for added stability. Implant bridges address multiple missing teeth with one or more posts topped with a ceramic dental bridge. Implant-supported dentures combine dental implants and traditional dentures to replace a full row of missing or damaged teeth. 
Ultimately, dental implants are an investment in your smile and overall oral health. The American Academy of Implant Dentistry highlights some of the long-term positives of dental implants compared to traditional, removable dentures: 
Monetary cost – Traditional dentures may need to be replaced, sometimes as often as every five to 15 years. While dental implants may cost slightly more during the initial treatment, that cost may end up being lower than the overall cost of dentures, including replacements, relining, cleaning solutions, and adhesives. 
Convenience cost – Dentures require removal for cleaning, while dental implants remain in place. Soaking and brushing dentures may end up being more time-consuming than patients want. 
Health cost – Dental implants help preserve jawbone integrity, which—in addition to preserving your oral health—can save money in the long run by mitigating the need for future dental work. Additionally, if a gap is left from a missing tooth, it can lead to loose teeth, orthodontic shifts, and even potential changes in facial structure. 
Social cost – With traditional dentures, patients run the risk of them falling out or slipping when they're talking, chewing, or laughing. With natural-looking, secure dental implants, patients can go about their daily lives with enhanced confidence. 
At Smile By Design, Dr. Donian Shen recognizes how a beautiful smile can elevate a patient's self-esteem. Dr. Shen offers a variety of restorative treatments, including dental implants, to improve the appearance and functionality of a patient's mouth. For more information on dental implants, contact our office to schedule a consultation. 
Medical Resources 
American Academy of Implant Dentistry  
Previous Post