Dental Implants have helped many people experiencing oral ailments such as severe tooth decay or missing teeth. Before deciding if dental implants will be the best choice for your particular oral ailment, it is very important to understand the process of dental implants to determine if you are a qualified candidate. Dental implants adhere to three crucial steps: oral surgery for implantation, healing and recovery, and the application of natural-looking replacement teeth.
One of the key benefits of dental implants is their natural looking appearance. Dental implants are designed to be fully functioning replacement teeth that will feel as though they were real teeth. Due to dental implants secure structure and osseointegration, these natural-looking teeth can allow patients to enjoy many of the pleasantries that they once enjoyed. Compared to other methods such as dentures that come with many complications and restrictions, dental implants pose for better results and overall oral health.
Read on to learn more about the dental implant process, then please contact us to schedule a consultation and to discuss your candidacy for implant dentistry with Dr. Donian Shen—your dental implant specialist!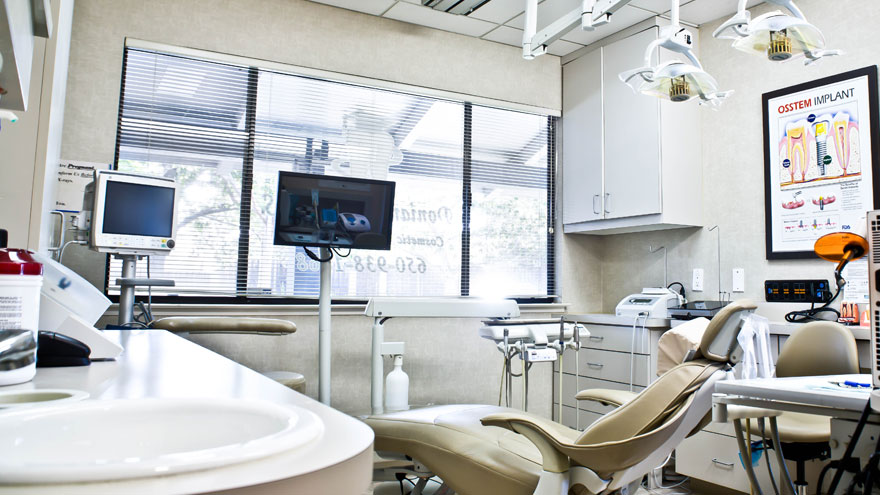 What Can I Expect During Dental Implant Surgery?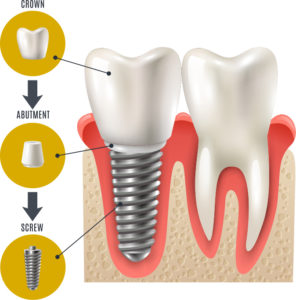 Surgical Placement of the Implant Post
An implant is designed with three parts that together imitates the structure of a real tooth: a small surgical grade titanium post, abutment, and dental prosthetic. Depending on your type of implant or jawbone structure, there can be a variance in how surgery is performed. The structure of an implant determines the surgical process because in order for the implant to function it needs to undergo osseointegration. In general, a titanium implant is first placed in the socket of the missing tooth and will act as a root when the process of osseointegration occurs and the bone tissue heals and fuses with the titanium.
Implant Fusing to the Surrounding Bone
The process of osseointegration is vital for the success of dental implants because it is what creates a secure and lasting restructure of your jawbone. Once the implant post or posts have been placed, they will then need time to heal and fuse with the surrounding bone and tissues, creating a durable and secure base for the eventual restoration. This process typically takes several months, and a temporary crown or restoration can often be placed in the meantime so that you do not need to go without teeth.
Application of Replacement Teeth
Once the implanted post has successfully fused with the jawbone, the abutment is then placed on the post to help secure the dental prosthetic. From there, a custom dental crown, bridge, or overdenture is attached to the implant post(s), resulting in a functional, natural-looking restoration.
How Long Does Dental Implant Surgery Take?
From start to finish, the dental implant process can take up to four to eight months. Implants need time to fuse to the jawbone and customized restorations need to be built. The four-step process typically includes:
1.Initial consultation
2.Implant surgery
3.Recovery time (the osseointegration phase)
4.Final placement of the restoration
As needed, preliminary steps may be added if bone or tissue grafting is required due to insufficient jawbone density.
Dr. Shen has undergone extensive training as an implant dentist, and she is committed to delivering the highest quality dental implant results for her patients. After receiving their new teeth from Dr. Shen, patients typically see improvements in the aesthetic appearance of their smile as well as their overall oral health and function.
What is the Dental Implant Recovery Process Like?
Recovery after dental implants entails diligent oral care and hygiene maintenance so that your bone tissue can heal with the titanium implant. The duration of recovery does rely on your personal oral health and the procedure of implantation that was performed. The process of osseointegration may take up to six months, which will further solidify the security of the implants and allow for them to potentially last for more than 40 years. Please contact Dr. Shen if you have any questions about dental implant recovery or the surgical process.
Does Getting Dental Implants Hurt?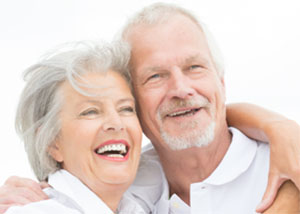 Most patients can comfortably and successfully undergo dental implant surgery using local anesthesia. For those who desire it, Dr. Shen also offers sedation dentistry options to make treatment as relaxing as possible. Discomfort felt during the recovery process is typically minimal and can usually be well-managed with over-the-counter pain medication and sufficient rest.
Learn More about Dental Implants in Mountain View, CA
If you would like more information on how dental implants work or would like to discuss your candidacy, please contact Dr. Shen to schedule a free consultation at our Smile by Design office in Mountain View, CA!