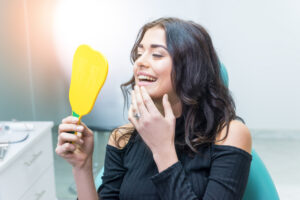 For individuals who are good candidates, replacing missing or badly damaged teeth with dental implants can rebuild a beautiful, healthy, functional smile with long-lasting results. If you are considering dental implants, you likely have questions about the results that are possible with this state-of-the-art technique—and our experienced implant dentist, Donian Shen, DDS, has the answers you are looking for. To learn more about dental implant results we invite you to explore the informative sections we have provided below:
For a more personalized explanation of the results you can expect, we welcome you to schedule a consultation with Dr. Shen at Smile By Design.
How Successful Are Dental Implants?
When dental implants are designed, placed, and restored by an experienced and highly trained implant dentist, like Dr. Shen, outcomes are overwhelmingly reliable and successful. At Smile By Design we attribute Dr. Shen's outstanding success rates to several factors:
Patients are thoroughly evaluated before determining whether or not they are suitable candidates for dental implants. Additionally, any existing oral health issues that could compromise the dental implant procedure are addressed prior to surgery.
Dr. Shen uses only high-quality dental implant systems and implant restorations, as well as the most advanced diagnostic and treatment technology to help her deliver superior results.
Patients are well-informed about the importance of closely following all pre- and post-procedure care instructions, which help minimize potential risks and complications.
Follow-up visits and long-term care at Smile By Design keep a close eye on healing, implant stability, and any oral health changes.
Patients are encouraged to notify the team at Smile By Design as soon as any potential issues develop with their implants to receive prompt, effective care.
While dental implant success relies heavily on the work of the dentist performing the procedure, Dr. Shen emphasizes that patient cooperation throughout each phase of the process is integral to a satisfying outcome. As a team, patients and Dr. Shen are able to navigate the dental implants process together, working toward the shared goal of a beautiful, functional, long-lasting new smile.
How Long Do Dental Implants Last?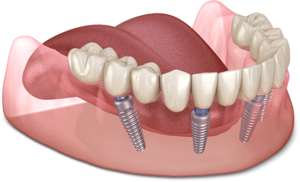 Dental implant posts that fuse with the jawbone tissue are designed to last a lifetime with proper care and maintenance. While not all implant posts will last forever, Dr. Shen reports a high-rate of long-lasting implants due to her meticulous planning, advanced surgical methods, and approach to post-operative care. The implant restorations—which are the crowns, bridges, and/or dentures attached to the implant posts—may not last as long as the implanted posts; however, when these replacement teeth are crafted from durable, high-quality materials and properly cared for, they can last for decades without needing to be replaced.
How Do Dental Implants Feel?
Dental implants are intended to feel and function much like natural teeth. Once the implanted post fuses with the jawbone, it generally acts just like a natural tooth root, supporting, retaining, and stabilizing the attached implant restoration. Healed dental implants should feel strong, comfortable, and reliable for many years to come. Any signs of discomfort should be immediately addressed by Dr Shen.
How Do I Clean and Care for Dental Implants to Ensure Maximum Longevity?
Dr. Shen and her team take the time to educate patients about proper dental implant care at all stages of healing and beyond. Dental implants are generally cared for much like natural teeth, with twice-daily brushing and flossing. If your restorations require any kind of specialized care, you will be fully informed about the steps you should take to keep them clean. It is also important to receive regular professional cleanings every six months and annual dental exams to ensure your implant posts and restorations are in good condition. Patients are also encouraged to abstain from using tobacco products, which can increase the risk of implant failure and be detrimental to oral health.
Are you curious about the results you could achieve with dental implants? We invite you to contact Smile By Design to schedule a free consultation* with Dr. Shen.