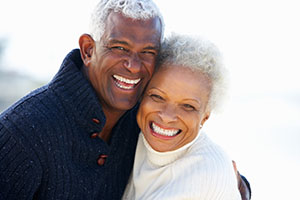 Dental Implants are a wonderful tool that restores incomplete smiles and replaces missing teeth that have been afflicted with neglect or disease. Titanium fixtures are implemented into your bone tissue that becomes a natural part of your body. Dental implants are growing in popularity due to its successful permanent restoration of missing teeth and it is no wonder why about 5 million dental implants are placed each year!
Dental Implants & Missing Teeth
Missing teeth pose many problems to your oral health and can cause a depletion of strength in your jaw and surrounding teeth. It can also cause other teeth to shift and tip, which can lead to more lost teeth. In addition, missing teeth can cause an alignment issue which may put stress on the temporomandibular joints or joint in the jaw. This pressure can cause headaches, tingling in fingers, facial pain, and jaw clicking. The state and quality of your oral health can affect your quality of life and prevent you from sleeping well, eating nutritious foods, having high self image, and maintaining healthy interactions with other people. Endentulsium, the medical name for adult tooth loss, is a condition that is plaguing 69% of Americans today and it is estimated that 50 million Americans have lost all their teeth. This alarming rate keeps growing and it is always important to remember to maintain oral hygiene to prevent tooth decay; however for some, tooth loss is an uncontrollable force that cannot be avoided through preventative measures. Implant dentistry provides a permanent solution to missing teeth and gives patients all the benefits that natural teeth offer.
Permanent Solution to Your Oral Ailments
The structure of dental implants is designed to imitate a real tooth and contains three parts: small surgical-grade titanium post, abutment (attachment piece), and a dental prosthetic. The implant is placed in the socket of a missing tooth and acts as a tooth root, strengthening the jawbone.  The natural occurrence of integration of titanium plates and bone tissue was first discovered by Per-Ingvar-Branemark, a Swedish orthopedic surgeon. In studying blood flow in a rabbit that he had inserted titanium chambers in, he discovered upon removal that he could not remove the titanium chambers. The body did not recognize the titanium as a foreign object and adopted it as a natural part of the rabbits body. This occurrence is called osseointegration and it is the key concept behind the dental implant process. The first stages of implementing a dental implant into the affected area includes the burying of the implant into the socket which mimics a tooth root. Once the implant has integrated, the overlaying skin on top will be flapped over to insert an abutment, allowing for the surrounding skin to heal around it. Once healing has occurred, the doctor can conduct the final stages of placing the dental prosthetic and completing the process of osseointegration.
"It has almost been one year since my last review and I am still nothing but pleased with Dr. Shen and the staff at her office. One thing I would like to add to my last review is that Dr. Shen places a great deal of importance on education."
Contact Dr. Donian Shen at Smile By Design
Dental implants are a permanent tooth replacement option that restores incomplete smiles into beautiful healthy smiles. Missing teeth can cause a number of complications that afflict your physical, mental, and emotional health. If you would like further information or would like to discuss your candidacy for dental implants, please contact your Mountain View Dental Implant Specialist Dr. Donian Shen to schedule your free consultation today!*