Why Choose Dental Implants?
Dental Implants are the most natural-looking tooth replacement option on the market. They provide patients with a solution to their oral health problems and boost self-confidence in appearance. One of the most attractive facets of dental implants are their realistic presentation. Dental implants look and feel like real teeth and allow patients to experience the pleasantries they once used to enjoy. In addition, dental implants administer a great amount of benefits that other methods cannot contend with. Other methods such as traditional dentures are very restrictive and only temporarily fix the problem. Dental implants provide lasting results and allow you the freedom that real teeth offer.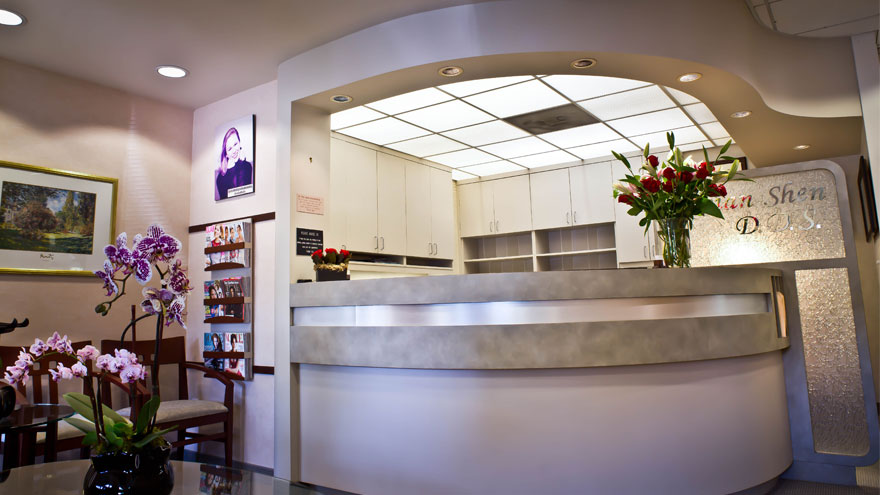 What Are the Benefits of Dental Implants?
Indelible results that can last a lifetime with proper care
Alleviate pain and bite problems caused by teeth shifting to fill a gap left by a missing tooth
High success rate of 95-98%
Restoration of jawbone
Youthful appearance
Large variety of foods can be eaten without restrictions
Restores sunken facial appearance to intended appearance
Supports a dental bridge or denture with a secure fit and improved comfort
No removable pieces that require additional maintenance
No slipping or clicking noises
Better speech
Retention of natural tooth formation
Your existing teeth will stay in position and not shift, allowing for better jaw function and more comfortable bite alignment
This innovative method has been updated and improved over many years and its success is seen through the countless patients who have changed their lives through the use of dental implants. What makes dental implants unique is the natural process of osseointegration. Through this process, a titanium implant is placed in the affected area and allowed to heal, causing a natural fusion with the bone tissue. This strengthens your jaw bone and rejuvenates your overall health in addition to your oral health. Dental implants can be a large investment in time; however, the benefits that it offers are unparalleled.
Can Dental Implants Benefit Me?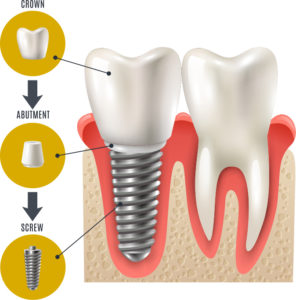 Are you missing one or more teeth and would like a permanent replacement that can give you a strong, beautiful smile once again? Many patients are opting for dental implants for their ability to transform a smile aesthetically and structurally. Simply read the testimonials from our happy Mountain View, CA patients to find out more about how dental implants can positively impact your life. To find out if you are a good candidate for dental implants at Smile by Design, please contact us to schedule a consultation with Dr. Donian Shen, the Bay Area's Top Implant Dentist.
Conventional Options Vs. Dental Implants
While conventional tooth replacement options, such as dentures, crowns, or bridges, aid in restoring oral function, they cannot accommodate many of the problems that correlate with missing teeth. Full dentures are comprised of a plastic base that sits on your gum tissue with the ridge of the jawbone holding it all in place. However, this removable piece is a solution that does not provide you with future relief, and over time depletion of the jawbone and gum tissue will occur due to lack of exercise from chewing muscles. Dentures will then loosen due to the change in jawbone strength, which can be adjusted to fit again. This process, however, will continue to persist because the jawbone is not receiving the exercise it needs to stay healthy. One of the main problems in partial dentures is its metal clasps that can cause some wear and tear to your natural teeth, thus compromising your oral health. Crowns and bridges are placed on existing tooth structures and grind away, destroying healthy tooth structures in the process.
Dental Implants Vs. Dentures and Bridges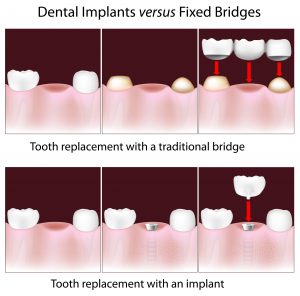 A huge reason why patients and dentists choose dental implants over other tooth restorations has to do with the benefits dental implants can provide. Out of the three options, dental implants last the longest, provide the greatest stability and bite strength, and remain the most convenient option. While dental implants cost more, patients also get more for their money. Dental implants are a permanent solution, while dentures and bridges often only last seven years at best. For the option that feels the most like real teeth, choose dental implants.
Dr. Donian Shen recommends dental implants to restore teeth. Dental implants are recommended the most by dentists due to the sheer number of benefits they provide. When comparing dental implants versus dentures and bridges, implants are regarded as the finest choice.
Contact Dr. Donian Shen for Dental Implant Consultations
Dental implants are truly a superior tool that replaces missing teeth while providing patients with assurances in teeth retention, realistic results, and jawbone strengthening, among many others.  If you have any questions regarding dental implants or would like to discuss your candidacy, please contact us to schedule a free consultation* with the talented Donian Shen, DDS, the Bay Area's Top Implant Dentist.