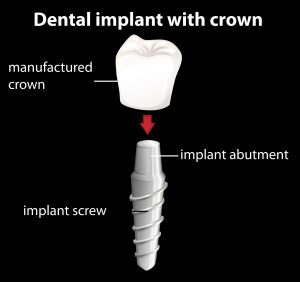 Hello and welcome to the all new dental implants blog of Smile By Design! We are ecstatic to finally have a way to communicate the benefits and capabilities of dental implants to our Mountain View, CA area patients. Dental implants are the latest and greatest in teeth restoration technology. Unlike other restoration treatments, implants provide a treatment that is comfortable and versatile, providing replacement teeth that work and feel just like natural teeth. Today, Dr. Donian Shen is blogging to give our current and prospective patients a general overview of dental implants and exactly what they can offer our current and prospective patients.
The Comfortable and Stable Choice
Dental implants are artificial tooth roots that are fused to your jawbone. Each implant is made from titanium, a metal that the body does not recognize as a foreign substance. This allows a process called osseointegration to occur. Osseointegration is the process of your dental implant being accepted by the jawbone and surrounding gums as a natural part of your anatomy. Each implant is also covered in small holes and ridges, which your jawbone and gums thread themselves through during the healing process, pulling the implant permanently into place.
Dental implants are made up of three parts, which include:
The Implant Fixture: The main part of the implant, the fixture is the part that is implanted into your jawbone and serves as a replacement tooth root. The fixture provides the support for the replacement tooth.
The Abutment: Attached to the fixture after the procedure or after the recovery period, the abutment connects the implant fixture to the crown.
The Crown: The crown serves as the replacement tooth. We are proud to say that our crowns are custom made for each individual patient, ensuring that your crown fits in among your remaining natural teeth.
There are many benefits that are exclusive to dental implants. The main benefit we're going to focus on for this post is the fact that implants can help prevent bone loss and gum recession. What many people don't realize is that the vibrations that come from your teeth chewing serves to exercise your jawbone and surrounding gums. When you loose a tooth, your jaw structure is no longer getting the exercise it needs to stay healthy. Dental implants work just like natural teeth, meaning that, unlike dentures or dental bridges, you are able to get the exercise you need to keep your jawbone and gums strong.
Call and Schedule a Consultation in Mountain View, CA
Dental implants are quickly becoming the most popular method of restoring a missing tooth or teeth. This is because only dental implants provide a permanent solution for missing teeth that is comfortable and reliable. Not only that, the replacement teeth we connect to your implants are carefully matched to your natural teeth, ensuring that no one will be able to tell the difference between your artificial and natural teeth. If you would like to find out if you might be a good candidate for treatment with dental implants, we encourage you to contact us and schedule a no-obligation consultation with Dr. Donian Shen today. We look forward to working with you soon!
Next Post