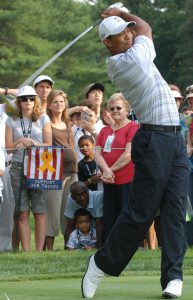 Many people forget that it is a very real possibility that they may lose a tooth through means other than gum disease or tooth decay. Professional golfer Tiger Woods had the misfortune to be reminded of this fact just last month while visiting his girlfriend in Italy. Luckily for Mr. Woods and the millions of others suffering from a missing tooth or teeth, dental implants can provide a beautiful restoration that functions and feels just like a natural tooth. Today, Dr. Donian Shen is blogging from Mountain View, CA to talk about Tiger Woods' circumstances and how dental implants may be the solution that he is looking for.
Restore Your Missing Tooth with a Dental Implant, Mr. Woods!
Tiger Woods recently made the long journey out to Cortina d'Ampezzo, Italy in order to surprise his girlfriend, Olympic skier Lindsey Vonn. Vonn was set to compete in the super-G race at the Alpine Skiing World Cup held there in the hopes of securing her 63rd world cup win. During a rush to the podium after the race, a man with a shoulder mounted video camera stood suddenly and turned, hitting Woods right in the face with his camera. As a result of this impact, one of Woods teeth was chipped and another was completely knocked out. Regardless of this misfortune, Vonn was still happy to see her boyfriend there to cheer her on.
Fortunately, it is possible for Tiger Woods to restore his missing tooth with a dental implant. Dental implants are artificial tooth roots that are made from titanium, a metal that the body doesn't recognize as a foreign material. Because they are made from titanium, it is possible for osseointegration to occur, which is the process where your implant is accepted by your jawbone and gums as a natural part of your oral anatomy.
Dental implants come with many benefits thanks to osseointegration. For instance, your implants should never get loose or move out of place because they are held permanently in place by your jaw structure. Dental implants also require no additional maintenance other than your usual brushing and flossing to stay healthy. Other restoration methods need to be soaked in a cleaning solution every night which, by the way, places an additional cost on your finances. Best of all, your dental implants can last a lifetime with this minimal amount of upkeep. Other restoration methods typically last for only seven years before they will need to be replaced.
Call and Schedule a Consultation with Dr. Donian Shen
We recommend dental implants for our current and prospective teeth restoration patients because they simply offer the most reliable and most comfortable replacement teeth. This is because, much like your natural teeth, dental implants are fused to your jawbone. If you would like to learn more about the dental implant process or the benefits that come with implants, we encourage you to contact us and schedule a no-obligation consultation with dental implant provider Dr. Donian Shen today. We look forward to seeing your new, restored smile soon!
Previous Post
Next Post