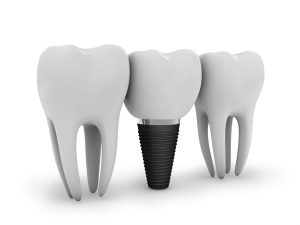 The dental implant process is quickly gaining a reputation for leaving patients with beautiful replacement teeth that work and feel just like natural teeth. Dental implants are becoming popular because they offer an alternative to dental bridges and dentures that is permanent and requires no additional maintenance to remain healthy and strong. With results that are this good, many of our patients seeking teeth restoration treatment have expressed the idea that the implant process must be very complicated and intense. Today, Dr. Donian Shen is blogging from Mountain View, CA to put these fears to rest by giving a general overview of the dental implant process.
Restore Your Missing Teeth With Dental Implants
The dental implant process is a straightforward method for restoring a missing tooth or teeth. In fact, the process can be broken down into four easy steps, which include:
Consultation
Before you can start your journey to a beautiful, restored smile, you will first need to attend a consultation with Dr. Shen at her Mountain View, CA office. During your consultation, the doctor will perform a thorough examination to determine whether or not you have the foundation needed to support dental implants. Dr. Shen may also recommend bone grafting or soft tissue augmentation if you need more support before proceeding with your treatment.
Procedure
During your procedure, Dr. Shen will make a small incision on your gums, exposing your jawbone. An implant fixture will then be placed in the empty spot left by your missing tooth, and the area will then be stitched up so that it can heal. It is possible for an abutment and temporary replacement crown to be attached to the implant fixture at this point, however, it is not unusual to wait until after the recovery period before anything is connected to the fixture.
Recovery
Once the procedure is complete, the implant fixture will need time to heal. This is the most important part of the process as this is when osseointegration occurs. Osseointegration is the process of your implant fixture being accepted by your jawbone and gums as a natural part of your jaw structure. This is only possible because dental implants are made from titanium, a metal that the body doesn't recognize as a foreign material.
Replacement
Once your implant has healed, you will return to our office so that Dr. Shen can attach your replacement tooth. Our replacement crowns are custom made for each patient based on scans we take of their remaining natural teeth. By doing this, we can match your replacement crown to your natural teeth, allowing your dental implants to match them perfectly.
Call and Schedule a Consultation in Mountain View, CA
With the amazing results that come from dental implants, it's no wonder that so many of our teeth restoration patients are choosing to use implants for their treatment. While it is true that the implant process does tend to take longer to complete than other restoration methods, the results implants deliver more than make up for this. If you would like to find out whether or not you might be a good candidate for treatment with dental implants, we encourage you to contact us and schedule a no-obligation consultation with Dr. Donian Shen today. We look forward to working with you soon!
Previous Post
Next Post