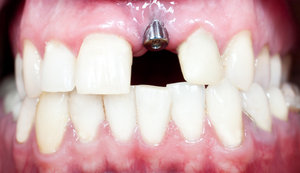 The holiday season is coming up soon and many people are gearing up the holiday festivities and food. People with missing teeth understand that this time of year may be filled with less cheer and more fear about having to be in social settings or not being able to eat certain foods. Missing teeth can be very detrimental to your oral health, but also your overall body health. Missing teeth patients usually experience bone loss in their jaws which makes their teeth weaken and loosen. Eventually surrounding teeth will shift and fall out because there is no support coming around or underneath it. Dental implants have been a miracle worker for many missing teeth patients because it not only restores the look and feel of their teeth, but it also gives them oral function.
What Dental Implants Can Do For You
Dental implants have become a very popular procedure amongst missing teeth patients because of its reliability and success rate. Through the process of osseointegration, dental implants will fuse in with the bone tissue in the jaw to permanently become a part of your oral anatomy. This innovative process was first discovered by Swedish orthopedic surgeon, Per-Ingvar Brånemark, who experimented on a rabbit by putting a titanium chamber in its bone tissue to study its blood flow while having the titanium. When he attempted to remove the titanium, he was unable to and realized that the titanium had assimilated itself into the rabbits oral anatomy.  He applied this concept into dental implants and reinvented a new era of teeth replacement. Dental implants osseointgeration is a natural occurring phenomenon in where the bone tissue does not recognize the titanium as a foreign object and incorporates it in the healing process.  The result is a strong and solidified jawbone that can last a lifetime if good oral hygiene is practiced.
One of the most important aspects that dental implants will bring to you is oral function.  Other teeth replacement methods such as dentures does not allow patients to eat certain foods because it will be difficult to chew or even damage the denture. In addition dentures are removable prosthetic pieces which means that they do not provide any support for the oral anatomy and patients will often still experience jaw depletion later down the road. Dentures often slip out when talking and can be very embarrassing for patients. Dental implants will not only correct the exterior problem but also the root of the problem.
Contact Dr. Donian Shen at Smile by Design in Mountain View, CA
This holiday season, treat yourself to a wonderful gift that will get you smiling and allow you to enjoy the holiday season without worrying about oral discomfort and appearance. Dental implants can offer many benefits to your self esteem, but more importantly to your health. If you have any further questions regarding dental implants or would like to discuss your candidacy, please contact us to schedule your FREE, no-obligation consultation today. We look forward to hearing from you soon! Happy Holidays!
Previous Post
Next Post