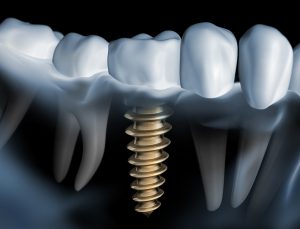 Patients who have missing teeth have experienced the negative effects of what missing teeth can do to their oral anatomy. Missing teeth will cause you to loose oral function, bone, and a shrinkage in your gums.  A loss of bone will provide additional oral problems and often a patient will require bone grafting in order to receive dental implants to restrengthen their oral anatomy and regain oral health. Dental implants have become the most reliable teeth replacement procedure and has given many patients the benefits and functionality that they desire.  However, receiving dental implants is not the end of the process. In order to help keep your dental implants strong and long lasting, cleaning must be maintained.
Keeping Your Dental Implants Clean
Bacterial infection is a serious oral issue that plagues many people and can cause tooth loss or other serious complications. Oral hygiene is always important for not just dental implant patients, but for everyone. Our oral anatomy is the gateway to the health of our whole body and if our oral anatomy is in poor shape, it can affect other parts of your body. In terms of dental implants, not removing plaque from the prosthetic tooth can cause a buildup of plaque around the gums and cause inflammation.  This will ultimately lead to bone loss and a bacterial infection called peri-implatitis. This bacterial infection will cause your bone to deplete and in turn will loosen your dental implant anchor which will eventually fall out. If a dental implant fall out due to bone loss, it will become increasingly more difficult to reverse the bone depletion unless you receive a bone grafting procedure to apply additional bone so that the implant will be able to have a support base.
Dental implants doesn't need complicated method of cleaning, it only needs to be treated as you would real teeth. Brushing and thorough flossing are a must in order to help keep plaque from building up. An antibacterial toothpaste can be used to help keep harmful bacteria from infecting your gums and will also keep working after you are done brushing. An antibacterial mouth wash can also be used throughout the day to ensure that bacteria is being lifted away and that your teeth cannot retain any buildup of plaque. In-office visits are also very important in protecting yourself against bacterial infections. Dr. Donian Shen will remove the abutment and prosthetic crown and thoroughly clean around the implant and gum and remove any plaque that might have slipped underneath.  Also if you have a bacterial infection, it can be detected and dealt with to maintain your oral health.  What often happens with many patients is that symptoms of bacterial infections will not be very noticeable, so checkups will help remove the risk of this problem.
Contact Dr. Donian Shen at Smile by Design in Mountain View, CA
Here at Smile by Design we strive to help our missing teeth patients regain their oral function and health back with dental implants.  Dental implants have been a helpful and beneficial procedure that has transformed the smiles of our patients.  We are so happy to see the success of our patients dental implants and we want them to last a lifetime.  In order for this to happen, cleaning and in-office cleanings are vital for the success of your dental implants.  If you have any further questions regarding dental implants or would like to discuss your candidacy if you are a prospective patient, please contact us to schedule your FREE, no-obligation consultation today!
Previous Post
Next Post